Pet Rock Festival
Central Mass/Douglas – The Central Massachusetts Disaster Animal Response Team, Inc (CMDART) was one of more than 150 animal groups (and approximately 2700 people) to attend this year's Pet Rock Festival in Grafton on Sept 8. This was the 21st year of the Pet Rock Festival held each year to help benefit animal organizations across New England.   Pet Rock Fest continues to put the spotlight on animal welfare organizations that work hard to promote kindness to animals. Pet Rock Fest gives its proceeds to worthy animal related charities that support a variety of causes, from shelters to law reform to farm animal sanctuaries and disaster response such as CMDART.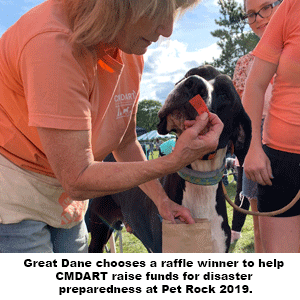 CMDART attends Pet Rock yearly to help promote personal emergency prevention education for pet owners ahead of the next disaster. "While we do fun things like agility at Pet Rock to draw people and to try to raise funds to help our mission, our primary purpose there is to educate people to be ready before the next emergency". This year 45 groups of pet owners went through our agility course each receiving pet prevention literature while having fun with their canine. "Some years we have had more than 90 people standing in line to try the course with their pets. Our team did a great job talking up disaster prevention this year," Griffin said. Pet Rock's schedule falls during hurricane season. Two years ago, the team and Pet Rock, did a major fund-raising effort for Hurricanes Harvey and Florence.    
 CMDART is a regional animal disaster team, covering Worcester County. The team works in collaboration with local animal control, emergency management agencies, local Community Emergency Response Teams (CERTs), MAVOAD (Volunteers Organized Active in Disasters),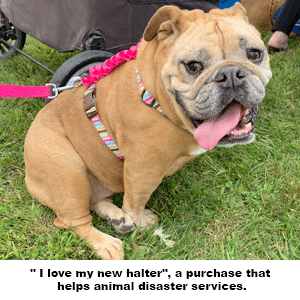 the Medical Reserve Corp, American Red Cross, other animal disaster organizations and emergency service organizations.
CMDART is entirely self funded, other than from equipment supplies gratefully received from grants through the Central Region Homeland Security Advisory Council and gifts from local organizations like Dean Bank, Savers and Unibank. The team has received a few small sponsorships and stipends from some towns to offer trainings and from those who seek to become animal disaster responders.   
Over the past couple of years, CMDART has aided response to the local tornadoes, animal hoarding incidents, large scale cruelty cases, fires involving animals, and large animal equine rescues. They also sent supplies to aid pet owners in the Merrimack Gas Explosion. The team in increasingly being asked to participate in local emergency operation practice drills and exercises so that pet issues are addressed. "Emergency Managers know that to address the pet owners issues reduces the likelihood of public safety issues because pet owners will risk themselves to take care of their pets," said JoAnn Griffin, President and Team Lead for CMDART.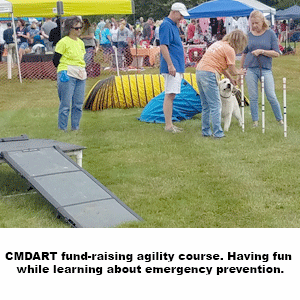 This year, a portion of CMDART's proceeds from Pet Rock has gone to Bahama's Humane Society to aid the devastating loss following Hurricane Dorian. 
CMDART is scheduling animal disaster responder training coming up prior to Thanksgiving and into the winter months. They also hope to offer some Pet First Aid clinics around our region. For more information and to sign up an interest, go to www.cmdart.org or contact training@cmdart.org. For membership questions, contact membership@cmdart.org  Please check out their Facebook page also. CMDART asks people to begin to think of them as the holidays draw near by going to Amazon Smile and searching out  the team by its full name. Donations can also be sent to CMDART, Inc, PO Box 1317, Douglas, MA 01516
---
Animal Disaster Team helps hurricane relief effort in 2017
Blackstone Valley – The Central Massachusetts Disaster Animal Response Team, Inc. (CMDART, Inc) participated in the 2017 relief effort to aid animals, pet owners, and rescue organizations during a most unprecedented year of hurricanes and other animal-related incidents.
 The 2017 hurricane season was powerful, destructive, unforgiving, and widely impactful. From strong winds to heavy rain, powerful storm surge, and tornadoes; hurricanes Harvey, Irma, and Maria totaled damage costs in the order of hundreds of billions of dollars and will leave scars in the places they impacted for decades. Many animals perished in the hurricanes. Some were wandering strays with no owners, some separated from their owners, and unfortunately some were for varied reasons left behind without proper safety or care.
Over a period from June through December, CMDART team members were aiding the response and recovery effort from New Hampshire to Florida, Texas and Puerto Rico.  From June Into the fall, several team members assisted the Humane Society of the United States with emergency animal sheltering in the care of several Great Danes in New Hampshire. In September, team members responded with various organizations, including the American Red Cross and others to aid human and animal hurricane relief efforts in Texas following Hurricane Harvey.
"While it was hard to find the beauty in such destruction, there was a blessing that came from the response efforts," said JoAnn Griffin, President of the Central Mass Disaster Animal Response team. "While we have helped with emergency animal sheltering for hurricanes, tornadoes, and ice storms in Central Mass, the magnitude of the devastation was greatly multiplied in 2017. We were very proud of the training our team members received to make them ready to aid the needs of pet owners and animals in these very painful, large-scale events."
Starting in early September , CMDART partnered with the Pet Rock Festival Committee, Daisy's Animal Rescue League (WARL), All Phase Glass of Grafton, and  Julia Cuoco with Masterpiece Dog Training, Franklin to send tractor trailer loads of pet goods to needy pet owners in the rural areas of Houston and elsewhere.  Many of the animal organizations present at Pet Rock contributed to the collection of goods.  
"This year, animal advocates everywhere were largely concerned and focused on the series of natural disasters that were occurring, and putting our animals in harm's way". said Charlene Arsenault and Jeannie Hebert, co-founders of Pet Rock Fest, Inc". The timing of our annual festival was opportune to provide a platform to gather donations to be sent to Puerto Rico, Texas and others affected by disaster. With CMDART, the area's leaders in animal emergency response, pushing for help, we were more than happy to provide an assist, with donations exceeding expectations."  Pet Rock Fest is held each year in early September, now at their new location, the Wyman Gordon Field in Grafton.   CMDART is grateful to have received an annual donation from Pet Rock Fest for team efforts this year and in the past.
CMDART End of year 2017
Daisy's Animal Rescue League Director and Founder, Melissa Prescott and their team, provided needed manpower for the effort.  " It was DARL's pleasure to collaborate with such an organized and experienced group of people. We all worked very hard to get donations to help the people and pets in need during such a tragic time."
Locally, CMDART team members also helped at local Central Mass shelters like Second Chance of Brookfield, when dogs and cats were shipped up from hurricane- ravaged states.   "This is one of the blessings that came from the hurricanes. Thousands of sheltered animals got rescued from a long-term sheltering in the South, some that were scheduled for euthanasia. They were given an option for new life as a result of the hurricanes", Griffin said.  She said animal shelters located in the devastated areas find resources to ship animals out of their local shelters. They do this both to rescue them from the disasters devastation and to make room for owned animals that have to be temporarily sheltered or missing animals that will hopefully be re-united with owners.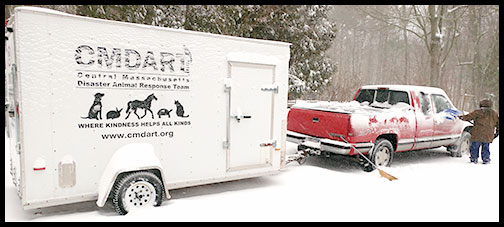 "At Second Chance we took in an overwhelming 99 pets from Hurricane Irma in just 48 hours.  This meant that our need for care of these pets increased dramatically.  We reached out to CMDART and they sent several amazing volunteers to help with all the tasks of caring for these pets", said Sheryl Blancato, Executive Director of Second Chance Animal Services with headquarters in East/North Brookfields.  "It helped to get these pets the care they needed during this emergency.  We sincerely appreciated the volunteer help of CMDART to help with these pets.  These were pets that were already in shelters in FL that had to be evacuated to make room for pets coming in from the community.  Therefore it was urgent to move as many of these pets as possible during this critical time.  The help of CMDART was extremely important in the accomplishment of this mission. "
While the team heeded the call to help out of state, duties and training needed to continue here at home in Central Mass. Fifty –three (53) new volunteers were trained and added to the team in 2016, 2017. Together with local emergency management and animal control, volunteers participated in local trainings, practice exercises, and continued their mission to educate the public on their personal responsibility for preparedness.   
January 3, 2018, will start the 15th year of service for CMDART. The Board of Directors is currently seeking additional Board members to aid the administration of our non-profit . These directors will help to support our forward progress , assist a manageable distribution of tasks, and assist the establishment of strategic short and long-range goals.  Central Mass residency preferred. For more information, contact president@cmdart.org, go to our website www.cmdart.org or call 508-476-2873.
---